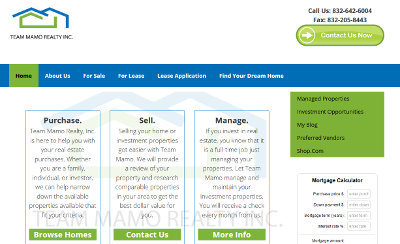 Matthew, the owner of Team Mamo Realty, contacted us last week in regards to getting a website created for him.
Matthew is in the real estate business and assists customers buy and sell their homes – and also assists landlords with property management and investment property purchases.
He had several different websites already for providing information about his services – but he wanted one single source to direct all of his customers to – that way it is easy for them to have all of the links to his various resources in one spot.
Originally, Matthew had also just changed from GoDaddy over to Yahoo web hosting services just days before contact us. However, he decided that he wanted BsnTech to manage all of his website needs – including domain name management and e-mail services. He noted that it was very easy to reach out to us – and that we responded to emails quickly. On top of that, we speak English and are easy to understand! He had countless problems with GoDaddy raising his rates and poor customer service experiences at Yahoo, so he opted to make the transition to us.
We worked diligently on Matthew's website and made each change he requested in a timely fashion. Today, he has approved of the website and was ready to launch it!
Matthew noted that hew as very pleased with our work and that he had some clients / business partners that were also watching the construction of the site because they were contemplating a website design as well. We are hoping to win those customers as well.
We appreciate the business from Matthew!
The Team Mamo Realty website is at teammamorealty.com.