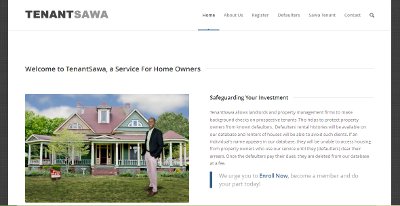 Tony, a proprietor that wanted to startup a business, contacted us in need of a website. His startup focuses on providing information to home owners to help them make better-informed decisions on potential renters.
Tony started TenantSawa. The idea is that individuals can send in information about tenants and provide details about their payment history and any problems encountered while they were tenants. Then, the landlords can login and pay a subscription to find out the information before renting to someone that may be problematic.
Our freelance web designer worked with Tony over the past couple of weeks to get the website setup and in functioning order and the site was just approved and made live today.
We appreciate the opportunity to provide Tony with website design, website hosting, and domain name management services!
TenantSawa is at tenantsawa.com.