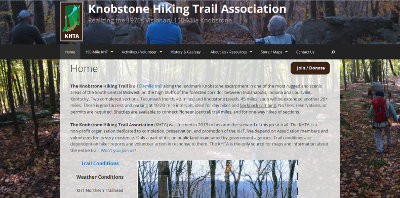 Suzy, a representative of the Knobstone Hiking Trail Association (KHTA), contacted us in February of this year to create a new, feature-rich website for the association.
Over the course of this year, we worked closely with Suzy to create the website.  They were exceptionally pleased with how the website turned out and mentioned on several occasions how glad they were to have hired BsnTech Networks and to choose a professional website designer to create the website for them.
As of to date, this has been the largest project that BsnTech has worked on.  While the work was not complicated, the size of the website includes almost 50 pages, eCommerce capabilities, online application forms, slideshows, and much more.
We appreciate the business from Suzy and the Knobstone Hiking Trail Association and look forward to a long relationship with them!
The website for the KHTA is at knobstonehikingtrail.org.