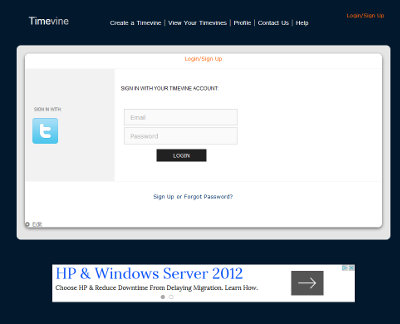 Jonathan, a long-time customer of BsnTech, contacted us in regards to another project that he needed help with.  Initially, he started out by attempting to use the GoDaddy website builder – but found it limiting and it prevented him from doing having features on the website that he wanted.
Therefore, he contacted us to go ahead and have us take the reigns with his website design, website hosting, and domain name administration.
We got started on Jon's new project and worked closely with him.  Jon uses special Caspio datapages to do things on the website – and it is a matter of just creating the pages, creating the design, and plugging in the JavaScript code for the Caspio datapages to provide the actual content.
The website was setup and created and a fully separate mobile site was developed.  After Jon had a moment to think about the site, he opted to scrap the site and start over with "TimeVine Version 2" and provided us newer, updated direction on the site.
With this new site, we recommended that both the desktop and the mobile version of the site be built in one – instead of having two separate sites.  That way, there was no need for mobile redirect scripts and any changes that were done on the site would immediately be updated on the mobile version as well.  He liked this idea and we made it happen.
Today, Jon has approved of the site and is exceptionally pleased with how it turned out and the guidance we provided during the process.
We appreciate the continued business from Jon!
The TimeVine website is at timevine.co.