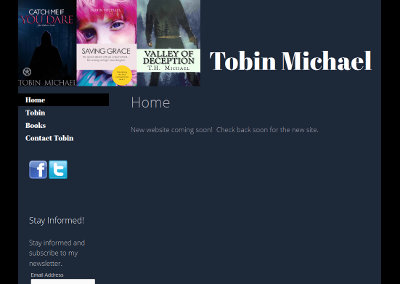 Tobin contacted us last week needing help getting a website started. He had a website in mind that he wanted to have his look similar to. The site he provided did have quite a few custom graphics, which Tobin opted to not have on his site for the time being.
Tobin provided us the info that he wanted on the site but noted that he wanted to 'fill in the blanks' and complete the text portion of his site. Therefore, we were happy to assist with getting the design of the site done, getting a few pictures added, integrating the site with his social media pages, and getting the newsletter subscription embedded into his site.
Today, Tobin has approved of the site and he will begin making changes to the site and getting involved!
We appreciate the website design business from Tobin!
His website is at tobinmichael.com.