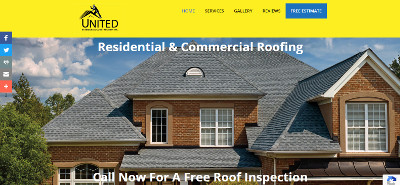 Brenda, a representative for United Exteriors & Construction, Inc., contacted us several weeks ago. She needed to have a website created for their business along with a logo design.
We previously posted about the logo design back on February 10th. Brenda provided us the exact logo that they wanted – with a few small changes. So the logo was completed quickly and we supplied the necessary print-grade files to them.
For the website, it took a little longer to complete based on Brenda's schedule. She was working to put together the information. For the Services section of the site, we further expanded on the main points and supplied some text to help fill the page up.
The website has a few features on it such as social networking integration, hover over menu navigation, mobile device compatibility, a picture gallery, animated page transitions, and a basic contact/estimate form.
We appreciate the business from Brenda and look forward to helping them update and make changes to the website as their business grows!
The website for United Exteriors & Construction, Inc. is at unitedextcoinc.com.