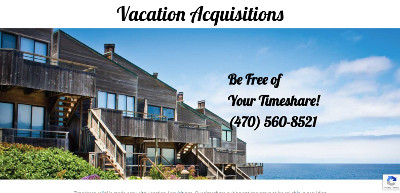 Kevin placed an order on our website on Tuesday for a simple website design. He needed a site for a new business he started called Vacation Acquisitions.
The main goal of his organization is to help timeshare owners free themselves from the unending ownership of a timeshare and the fees that go along with them.
Kevin already had his domain name purchased but didn't have web hosting. We spoke to him about needing this as well, and so he chose to have us also host the website. He provided us the text material for the site and we sourced a few graphics to help spruce the website up. A contact form was added for inquiries from interested parties.
Just a day after we started on the site, it has been approved and is now live!
The website for Vacation Acquisitions is at vacacq.com.