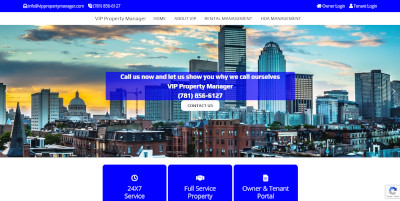 Darryl has been a customer of BsnTech Networks for several years. We recently created two other websites for him this year – and three websites in prior years. He requested to have a new site made for another business – VIP Property Manager. Darryl provides property management services in the Boston MA market and needed a website to have an online presence for this business.
Over the past few weeks, we created this site and worked out the modifications needed to complete the site. The website has five pages, it is mobile friendly, the site has 'sticky header navigation', a homepage slideshow, and a basic contact form.
Today the site was approved and it is fully done!
VIP Property Manager can be found at vippropertymanager.com.