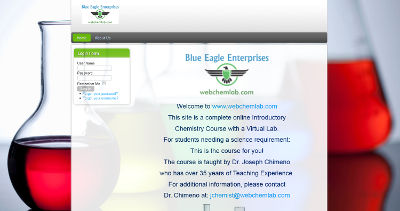 Joseph, a customer of BsnTech Networks already for web hosting and web design, contacted us in regards to a new project – WebChemLab. He wanted to have a separate site for an online chemistry class which would allow access to a few chemistry labs, lecture notes, and other materials for subscribers.
We worked right away on Joseph's site and had a full membership-based website up and running within about 48 hours. Of course, we had help since some of the material just needed copied from his other website. But never the less, the site had a fully different design and some additional items that needed added to it.
We appreciate the extra business from Joseph and his trust in us for website design and website hosting services. This continues to show that we provide excellent customer service and website services which bring in referrals and keep our customers completel happy.
Joseph's new website is at webchemlab.com.