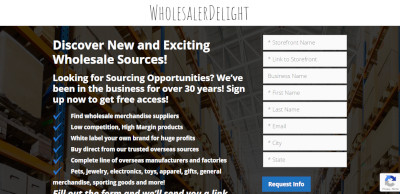 Matthew reached out to us about ten days ago. He needed to have a landing page created to offer wholesale information to visitors.
Matthew supplied us a couple of example ideas that he had along with the text information to place on the site and explained how the capture form should be setup.
After the initial payment, we got to work right away and had the website fully done and approved with four days!
We appreciate the business from Matthew and look forward to helping him with any other website needs he has.
The Wholesaler Delight website is at wholesalerdelight.com