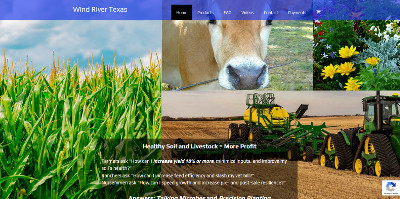 Skip, a current customer of BsnTech, emailed us a few months ago asking about getting help creating a new website for a venture he was pursuing with some other business associates. The name of the business is Wind River Texas and they specialize in microbes and air seeder rebuilding.
The website has a wide range of features including eCommerce capabilities that use both credit/debit card payments along with immediate ACH payments for larger orders.
Through the process, we had several phone calls with one of Skip's associates – David – to work on the website and through technical challenges.
The site is completed and open for business!
We appreciate the continued business and trust that Skip has placed in us for his website needs.
The Wind River Texas website is at windrivertexas.com.