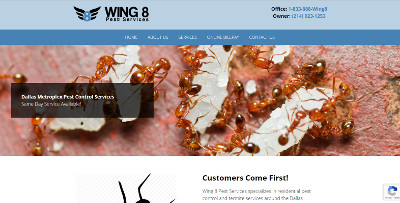 Max, the owner of Wing8 Pest Services, was referred to us by his family. We provide website and email services for one of his relatives and Max was looking for someone to take care of the same for his business.
Previously, we created a logo design for Win8 Pest Services. After the logo was done, we began working on the website with Max.
The website is a simple site with hover over menu navigation, mobile device compatibility, and a basic contact form.
Over time, Max may expand upon the website and add additional pages with specific details about his business, but he wanted a simple, easy to navigate website to start off with.
We appreciate the business from Max!
The Wing8 Pest Services website is at wing8pest.com.