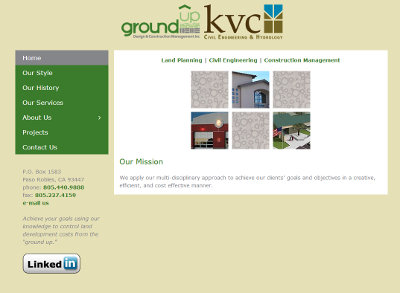 Bill reached out to us about a month ago on behalf of one of his clients, Ground Up Design & Construction Management, Inc. His client already had an existing website, but it was being hosted by a provider that no longer could be contacted. To be proactive, Bill asked us to help with this website and to get it hosted by us in the event the hosting provider took down his client's website.
We provided Bill two options for the site – a simple copy of the existing site to our servers – or re-creating the website using a content management platform to allow easy updating capabilities for his client.
After a couple of weeks, Bill indicated they wanted to move forward with the website re-creation.
The site was slightly updated with the appearance but also shares a lot of similarities to the old website. We added mobile device compatibility to the site to be sure it was mobile friendly and made the navigation easier to use.
The site is now completed and live! Their site is at groundup.bz.