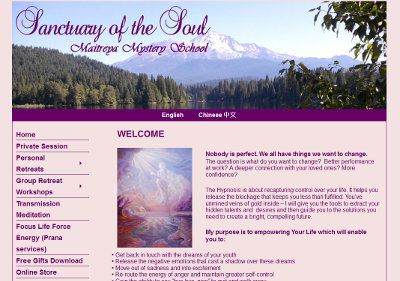 Fei, the owner of Sanctuary of the Soul, has been a customer of BsnTech Networks for over a year. She has had us manage and update her website whenever needed.
Her website consists of both an English and a Chinese version – with more emphasis on the Chinese version.
Fei had her website and domain name services managed by Yahoo, which recently sold out to Aabaco. Fei requested some website changes a week ago and we offered to convert her website to a more updated website system – instead of the pure static HTML. With her old website, it took many hours to update her website. This is because even small changes in the menu required all of her web pages to be updated.
Fei decided to go ahead and have us take over the website hosting, domain name management, and also convert her website.
BsnTech completed the website conversion within 48 hours for both versions of her website – which had at least 20 pages. Then, we worked to get the requested changes done to her site, which took considerably less time than it would have taken if the old website was still used.
The "new" website looks exactly the same as her old site, one thing that she made very clear.
We appreciate the continued business from Fei and are happy that she has chosen BsnTech to also manage her domain name and provide website hosting services.