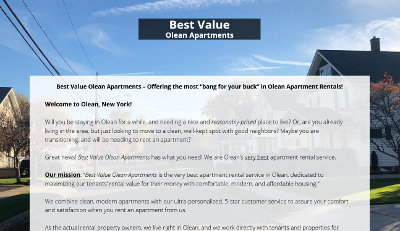 Jonathan contacted us a couple weeks ago asking some questions about our website design services. He owns several apartments in Olean, NY and wanted to bring his business more into the technical age by having a website that would allow him to have pictures and information for each of his rentals.
We showed Jonathan one of the other websites we made for a private landlord and he wanted his to be similar to it – with different information for his listings.
Upon receiving the information for the website, we had everything loaded and ready for his approval within just about eight hours. After a couple of days fine-tuning the site, it was completed and approved today.
We appreciate the business from Jonathan and look forward to helping him load more of his property listings when they become available!
The website for Olean Apartments is at oleanapartments.com.