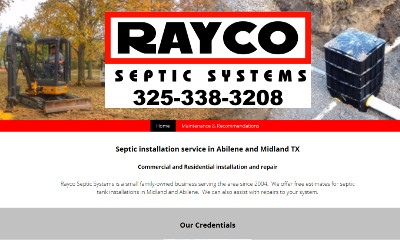 Ray contacted us a week ago asking for some help with his business. He already had an existing website for the town he serves – but wanted to also branch out and start advertising in some areas around him. We proposed a simple website along with a few Google Places listings in those new areas and he was on board.
Monday evening he had us send out the order and we started on the website yesterday. The Google Places listings still are awaiting activation but the website was just approved and completed in less than 24 hours after we began working on it.
We appreciate the business from Ray. He also plans to have us help with some SEO work for the site as well.
The website for Rayco Septic Systems is at midlandseptic.com.