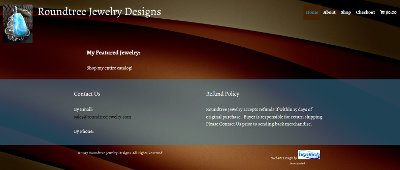 Nicole contacted BsnTech Networks last week for help getting a simple eCommerce website setup. She creates custom, one-of-a-kind jewelry and wanted to create her own website to sell and show her work.
Nicole calls her business Round Tree Jewelry Designs.
She got started with us right away and was helpful with providing us the checklists and information to complete the site.
Today, everything has been finalized and she is beginning to add items to her website for sale.
We appreciate the business from Nicole and look forward to helping her with any website needs in the future.
Her website is at roundtreejewelry.com.