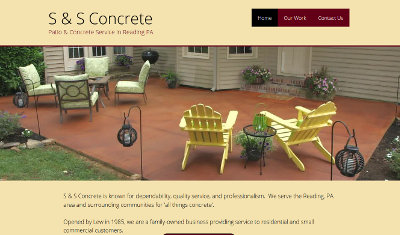 Lew, the owner of S & S Concrete out of Reading PA, contacted us in need of getting a basic business website created.
He originally had another website but forgot to get the domain name renewed and lost the website as well. He indicated that he created the site himself and wasn't happy with how it looked.
Lew mostly needed a site with contact information and to showcase some of his prior jobs. Therefore, we added in some general information on his business for the home page, created a picture gallery for his "Our Work" page, and added a contact form on his "Contact" page.
Lew approved of the website today and we provided him the ability to add additional pictures to his gallery as he has them.
The website for S & S Concrete is at readingconcrete.com.