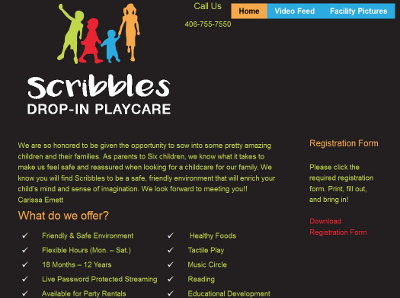 Guy and Carissa, the owners of the Scribbles Drop-In Playcare center in Kalispell, contacted us to have a website made for their new business they were starting.
They recognized a need in the Kalispell area for a daycare-like service to help parents even if only a few hours at a time.
One of the largest features that Guy and Carissa wanted was to have a live video feed of their main play area broadcasted on their website. While this took some time to get taken care of, the surveillance installation company did get the cameras setup to allow them to be broadcast through the Internet, which we then embedded into their website. The footage is behind a password-protected page so they are able to ensure it isn't publicly available.
Today, Guy and Carissa have approved of the website and they are open for business! They were very thrilled with how fast we were able to complete the website and the support we provided to help with getting the footage added to their website.
The website for the Scribbles Drop-In Playcare is at scribblesplay.com.