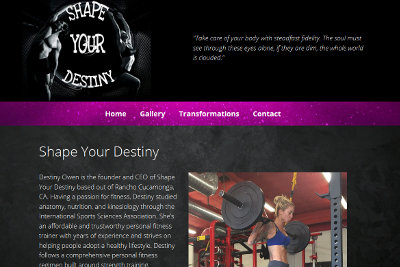 Drew contacted us last week asking about creating a website for a fitness business, Shape Your Destiny. He had a specific budget in mind and wanted to be as close to the budget as possible.
Drew noted that he already had the domain name for the site, but did not have the website hosting. Therefore, we offered to provide three months of website hosting, a basic website, and a picture gallery. It was just $5 more than his budget at $155 but this was acceptable for him.
Drew was very fast at providing the information that was needed on the website. In less than an hour after the invoice was paid, we had almost everything needed to start on the site.
By the afternoon, the website was already done and approved! It was very easy working with Drew since he was instrumental in communicating quickly.
The website for Shape Your Destiny is shapedestiny.net.