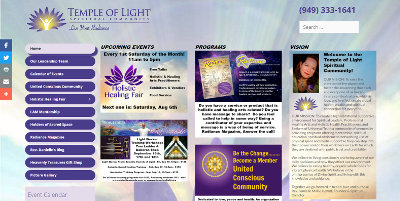 Reverend Danielle, a leader of the Temple of Light Spiritual Community, contacted us a few months ago asking about website design services.
Initially, she was looking at using another web design company that she saw advertised.  When in communications with them, they indicated to look at their website to see examples of their work.
On the other designer's website, they had a link to one of our customers – Airborne Signs.  As luck of the draw would have, Danielle called that customer to ask about how the designer was to work with.  Airborne Signs provided a very good testimonial to Danielle.  By the time the conversation was done, Danielle understood that Airborne Signs was speaking about us – and not the other company that has a false listing in their portfolio.
Danielle then called and spoke with us about her website needs.  They already had a website, but wanted to re-create the site and ensure that the site was also mobile-friendly.
About a month past and Danielle returned and said she was ready to begin the work on the site.
Over the course of the last few weeks, we worked to get the new site setup.  Danielle completed the finishing touches with adding events to the calendar and adding some of the content to the site.
Today, their new website was just launched and it is ready for business!
The website for Temple of Light is at templeoflightoc.org.