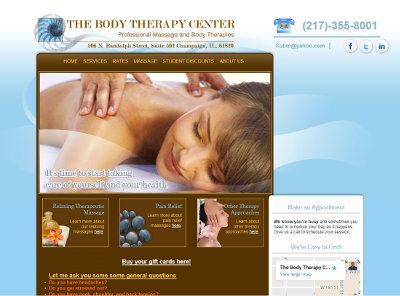 BsnTech Networks reached out to a customer this week that had us help with a website design in the past.  When going through our portfolio website, we had noticed that their website was down and indicated their site was suspended.
We reached out to Glenn, the owner of the The Body Therapy Center.  He asked us to go ahead and get the website online, but also renew the website hosting with his provider, iPage.
Once we went into his iPage account, we did find out that he was going to be billed on October 13th.  iPage was going to bill Glenn $342.75 for two years of service – which would have been an average of $171.38 per year.
In addition, Glenn has three domain names for his site.  He was being billed $20 a year for all three domain names, meaning an extra $60 per year.
Overall, his cost for his website hosting and domain names would be $231.38.
Once we informed Glenn of this, we gave him our cost for hosting his website and taking care of his three domain names.  Our cost is $120 a year and includes one free domain name – and then $20 a year for each extra domain.  Therefore, his cost yearly dropped from $231.38 down to $160 – a considerable savings.
iPage is touted as being a low-cost hosting provider and they have hundreds of thousands of customers.  They have a very low introductory rate, but obviously the price jumps dramatically after that.  We were glad to help Glenn and his small business save almost $70 a year off what he was going to be paying in a few days.