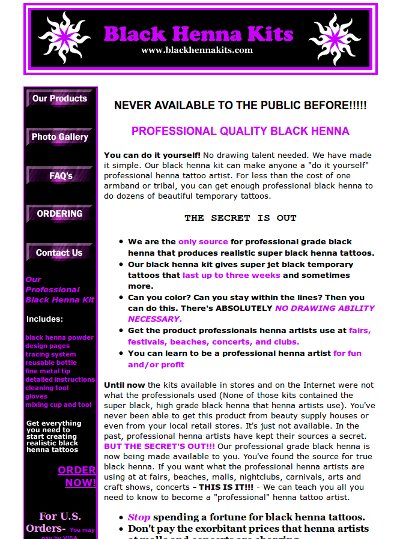 Joseph, a representative of Black Henna Kits / Black Henna USA, contacted us a couple of weeks ago in need for someone to take their current websites and move them from their hosting provider to a new hosting provider. Joseph noted that they had two very simple websites, but their web hosting provider informed them that they were using over their allotted bandwidth and need to either get the site under control or move to another provider.
Based on the response that Joseph received from the hosting provider, they wanted to just move the sites.
When we spoke with Joseph, he didn't realize that we offered website hosting and e-mail hosting services on our mirrored servers. After we informed him of this – and of our pricing, he wanted to move the services over to us. He said that not only were we cheaper than some other providers he looked at, he was happy that we called him back very quickly and we are responsive to e-mail communications.
Joseph said he would speak to the owner of the business regarding our proposal and would be in touch.
Less than a day later, he was ready to move forward. We were able to get the websites transferred over within an hour after the initial payments for website hosting was done. We also got all of the e-mail addresses setup quickly that they needed.
One issue that we ran into was the other hosting provider's slow response to requesting the domain name transfer. The other hosting provider promptly shut off their website but failed to provide us a timely resolution on obtaining the domain names. After getting everything worked out, we now have both websites taken care of for Joseph along with managing the domain names on their behalf.
We appreciate the business from Joseph and Black Henna Kits / Black Henna USA and look forward to a long relationship with them as their hosting provider.
Their websites are at blackhennakits.com and blackhennausa.com.