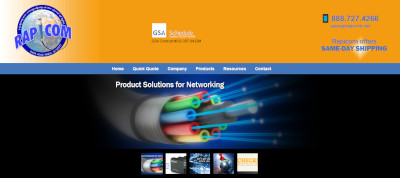 Steve, the owner of Oil Patch Surplus, let us know that his mother (Melanie) also ran a business called Rapicom. She was not happy with the website hosting provider that she had used for several years.
We worked closely with Steve and Melanie with providing itemized estimates and a summary of what we would need to do in order to get a full copy of the website and to also ensure all of the email addresses were forwarded properly.
After everything was done, we got the website backed up and moved to our hosting servers promptly after payment. We setup about a dozen email forwarders all going to one email account – which made checking emails much easier with only having one account.
The domain name took a bit more investigating – but we also were able to get that transferred over so BsnTech is managing the domain as well.
We appreciate the continued business from Steve and the referral!
The Rapicom website is at rapicom.net.