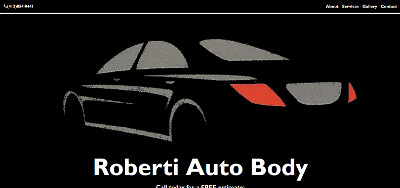 Frank, the owner of Roberti Auto Body, reached out to us at the beginning of the week. He was in need of some dire assistance.
He had a website and a domain name already – but the domain name had expired and was showing a 'landing page' with ads on it. He wasn't sure what to do or how he could get his website or domain name back.
We first let him know that if we were unable to retrieve the domain name, we could at least restore the website. We went over to the archive.org website and saw that a copy of his site was available there in the event we needed to restore it.
After looking up the WHOIS information on the domain name, it pointed us to the person that was managing the domain. We were able to get in contact with this individual and worked with him to oversee the successful renewal of the domain name and the domain name transfer to us so we can manage it for Roberti going forward.
The website is now back online from our web servers an the domain name transfer is in process.
Roberti Auto Body's website is at robertiautobody.com.