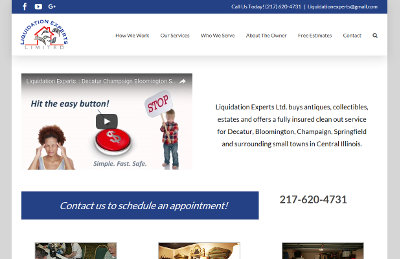 Tony, the owner of Liquidation Experts Ltd based out of Decatur IL contacted us last week in need of some help with his website services.
Initially when he started out, he didn't have any access to update his website and was thinking of scratching the entire site and starting over. In the end, he was able to get in touch with his previous website designer to gain access to his website.
Tony then took a couple of days and looked through the admin panel of his website getting familiar with it. Brian, the owner of BsnTech, made a house call to Tony's house Sunday evening and assisted Tony with some of the questions that he had with using the admin panel along with making a few changes and performance optimizations to the site.
Tony was then ready to pull the trigger and move the website over to BsnTech's mirrored website servers. Late evening Monday, the website was backed up and fully transferred over.
Work will continue on several changes on the website to make it more search engine friendly along with potentially giving the website a facelift.
We appreciate the business from Tony and look forward to working with him through the process!
The website for Liquidation Experts Ltd is at liquidationexpertsltd.com.