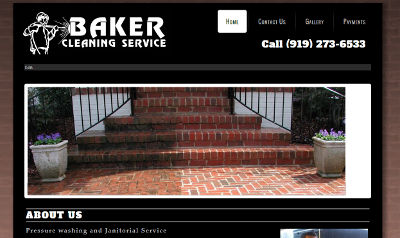 Joel, the owner of Baker Cleaning Service, contacted us many months ago about us helping with some website services for them.
Joel had another individual create their website and wasn't completely satisifed with it. However, he didn't want us to make any changes to the website at this time. Instead, he decide to go ahead and have the website hosting and domain name management transferred over to BsnTech from NetFirms.
Joel was not happy with how his website responded when he was using NetFirms, but wanted to wait until the hosting account was close to expiring with them so he wouldn't be double-paying for hosting services.
With Netfirms, Joel's website took anywhere between five and ten seconds to load the home page.
Upon changing over to BsnTech, Joel's home page now loads within just two seconds or less.
BsnTech makes use of "solid state drives" – or SSDs – to host our customers on. These drives are more expensive than typical platter hard drives, but we want to ensure that our customer websites are quick and responsive. In most server systems, the bottleneck is typically from hard drive "latency" – or the time the computer itself must wait for the hard drive to return the data it needs to render the website. SSD drives are approximately ten times faster than regular hard drives.
Joel has noted that he may have us help make some changes to his website in the future, but he has a family member that is going to attempt to make changes to the site before hand.
We appreciate the business from Baker Cleaning Service!.
Their website is at bakercleaningservice.com.