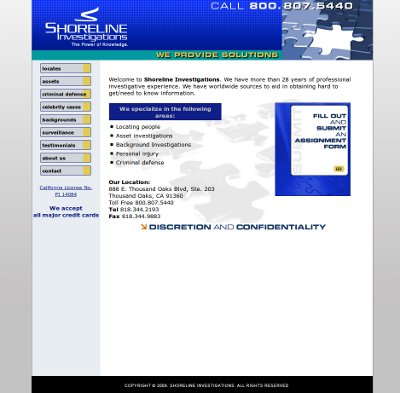 Ken from Shoreline Investigations in Thousand Oaks, CA contacted us yesterday about some website assistance.
He needed a very simple change completed on his site. On his homepage, there was a link to an Assignment Form that was not working. After we looked at his site further, we found that the link in his main navigation was working properly. Therefore, only the link on the homepage needed updated.
In addition to the request for help, he informed us that he was shopping around for a new website hosting provider. He was hosting his website with Earthlink, but they were charging him $32 per month for this service.
We explained to Ken that we could provide him website hosting on our platform and include his e-mail address for less than a third of the cost he was paying Earthlink. In addition, we were happy to fix the issue on his homepage at no extra cost if he had us host the site.
This morning, he proceeded with having us take care of this. We setup the hosting account, fixed the issue on his homepage, and everything was completed by noon. He will be calling Earthlink on Sunday to cancel his website hosting services with them and immediately start saving 66% on his yearly hosting costs.
We appreciate the business from Ken and look forward to a long relationship with him!
The website for Shoreline Investigations is at shorelinepi.com.