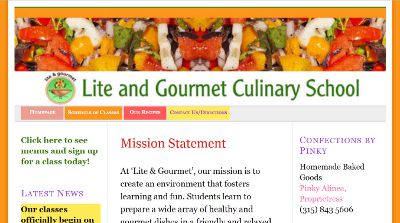 Raji from Lite and Gourmet Culinary School contacted us a few days ago about some problems with their WordPress site. They had another web developer create the site and Raji mentioned that they paid a "sizable" amount for the website design.
Raji noted that they were having an open house today, on Wednesday August 21st and they needed the website fixed by then. I spoke with Raji yesterday evening and they approved of the costs to have us fix the design issues.
Within two hours – and even on the same night, we worked late to get the website working as it should. The PayPal Integration on the Classes page was not working properly – and some of the classes were even missing. We worked quickly to get this website maintenance work completed.
In addition, the navigation bar under their header graphic was missing. The previous web developer was able to get it to work sometimes – and not other times. We uncovered the problems with the menu and got it to be restored.
Raji was exceptionally please with our fast response to their concerns and our affordable website design rates. In the future, Lite and Gourmet Culinary School may have us fully create a new website for them since the design theme that the previous web developer used has some programming problems that cause the site to look differently in other web browsers.