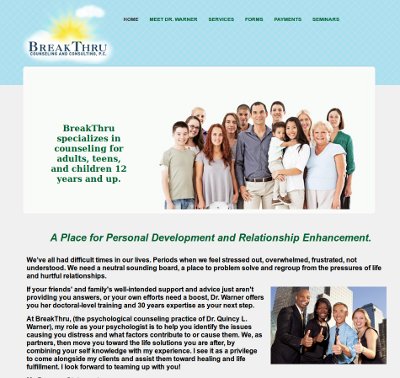 Steve and Quincy Warner have been long-time customers of BsnTech Networks. They have had us create two websites in the past and also provide some search engine optmization services and domain name management assistance.
About a month ago, Steve contacted me again on behalf of his wife, Quincy. They wanted to give her business, BreakThru Counseling Services, a website makeover. The website that we created for them quite a while ago was created to look very similar to the previous site that she had since they wanted the same information and same pictures used.
However, it was time to do a website re-design.
We worked closely with Steve and Quincy and had a few phone conversations to make changes and update items on the website in real-time with them. After a few phone calls and some e-mails, we got the site to a point where they were very satisfied with the site.
We appreciate the continued support and business that both Steve and Quincy has provided us over the years!
Quincy's website is at bthru.com