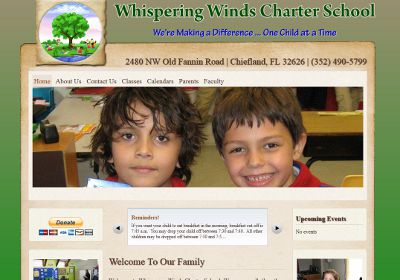 J. S. Cornell at Whispering Winds Charter School in Chiefland, FL contacted us a few years ago to create a website for them. They were exceptionally pleased and were one of our greatest customers that help spread the word about our affordable website design services from BsnTech Networks. Each of their instructors even went to our site and Liked us on Facebook.
They were just extremely pleased with the website design work we completed for them – and how we were able to give them exactly what they were looking for in the way of design.
Whispering Winds then employed our graphic designer to create a logo. They somewhat had apprehension about us creating a logo – because they employed a few other logo designers in the past and they didn't create what they were looking for. However, we did let them know that nothing would be required up-front for the logo design since they had us create a sizable website – and they would only pay if they wanted to purchase the logo. Again, our graphic designer hit the nail right on the head with what they wanted. They had us fully vectorize the logo so they could use it on T-Shirts, letterheads, and more.
Whispering Winds has continued to return to us to manage and take care of their website. Just today, they had us do a few more updates and decided to change over to us for their entire online presence. We took care of transferring their website over to our redundant website hosting servers and transferred over their domain names so that way everything is seamlessly managed by BsnTech Networks and combined on one invoice through then.
We appreciate the extra business and the continued rave reviews from Whispering Winds Charter School!