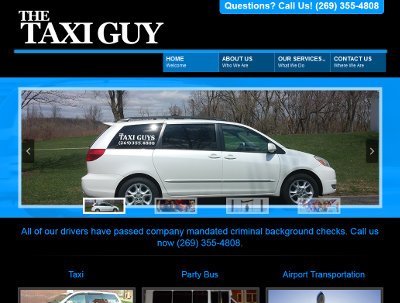 Matt contacted us last week about his websites.  Originally, he had one website that was hosted with another provider – and another website that had recently been shut off.  He wanted us to see about transferring one website from the other hosting provider (he was paying $60 a month for hosting with them) and then have us create a new website for his other service – The Taxi Guy.
Matt was able to get in touch with the previous web designer of The Taxi Guy website and they got the website online for him.  But, our web hosting was still lower cost so he wanted us to grab the site and make a copy of it – then transfer it to our servers.
BsnTech Networks provides this service to a few customers on a yearly basis.  Once his website was back up, we were able to make a copy of it.  It then took about an hour to modify some of the structure of the site. We then copied it to our servers, changed the nameservers on his domain name, and he is fully up and running on our redundant website hosting platform!
We appreciate the business from Matt.  We are still waiting for the other site – since he is needing to get the domain name from his other provider before we can proceed with moving the hosting for his other business.
The Taxi Guy website is at thetaxiguy.net.